Hey guys!
I don't know if you guys have heard of all the changes that Google is doing. But starting tomorrow, March 1st, Google Friend Connect will no longer be available for blogs that are not hosted on Blogger. Meaning, if you host your content in Wordpress, or any other plattform except for Blogger. You will loose all your followers. Not sure what GFC is?, it looks like the image below, it is usually at the side of any blog, and allows you to follow blogs, and you receive updates on the blogger dashboard.
It really sucks, for the people that will loose all of their followers overnight. I love seeing all those beautiful faces there, and I just can think that they could all dissapear! It would make me feel very lonely. I think I'm saved for now from losing my followers because I host on Blogger, but rumor has it that Google will completely get rid of GFC beacause they want to force everyone to use Google+.
I created an account on Google+ a while ago, and I find it difficult to use. GFC is so user friendly. Just one click and you're done.
I'm writing this entry because I wanted to ask you if you could also
follow my blog with Bloglovin'
you can receive notifications whenever I update my blog. Well, only do it if you want to keep in touch with me.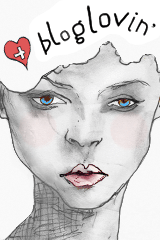 That will be all for today, I'm currently on my lunch break at work and only have a few minutes left!
Xo
Monica